Charity DVD to raise issue of male sexual grooming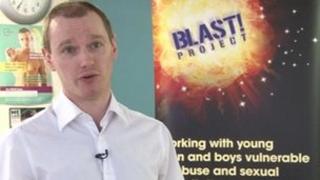 True experiences of boys who have been sexually groomed feature in a new DVD produced by a West Yorkshire charity to raise awareness of the issue.
Bradford-based Blast said there was a misconception victims were only girls and young women.
Phil Mitchell, from the charity, said it was currently working with 40 boys and young men from across Leeds and Bradford who have been abused.
He said: "We want to get the message out this does happen to boys."
Blast is the UK's leading charity that supports only boys and young men who have been sexually exploited.
The DVD, which will be used as a training aid by police, councils and schools around the country, features the real-life stories of three victims.
Mr Mitchell said: "This is not just a DVD with some stories on it.
"They are based on real-life stories of boys and young men who have accessed support from the Blast project."
Alongside the boys who feature in the DVD, the charity has been supporting another teenager who was groomed from the age of 13.
The victim said he was targeted by several men he met over the internet and they would arrange to meet him at various locations, including hotels and public toilets.
In a BBC Look North interview, he said: "At the time I thought they really actually liked me. Now I realise it wasn't a proper real feeling they had towards me, they just wanted to use me.
"I thought I was to blame but after a while I realised I was a child and they were an adult.
"They knew it was wrong, they should have told me to stop, they should have given me a number of someone to call for help rather than asking me to do all these things."
The charity has worked with hundreds of boys and young men who have been sexually exploited, the youngest being 11.
Mr Mitchell said there had been little awareness about male grooming and that victims and perpetrators could not be stereotyped.
"I go to meetings locally and nationally and automatically hear a lot of professionals talk about girls and young women," he said.
"I have to raise my hand and say hey, hey can we be saying children and young people please so we are automatically including boys rather than automatically excluding them.
"What we really want to achieve is to get the message out there that this does happen to boys and young men as well as girls and young women."