Pontefract plans liquorice museum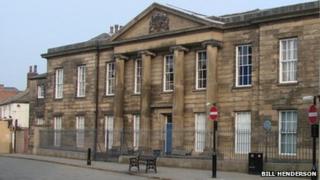 A liquorice museum could be built in a former court building under plans revealed by a voluntary organisation.
Pontefract Groups Together (PGT) wants to convert the town's magistrates' court into an exhibition celebrating 400 years of sweet-making history.
PGT secretary Sir William O'Brien said the museum would have worldwide appeal.
Sweet manufacturers Tangerine and Haribo, which both operate factories in the town, have backed the plans.
Liquorice is thought to have been brought to Pontefract by crusaders from the Middle East and the area once had fields full of the root.
'Renowned worldwide'
At one time there were 13 liquorice factories in the town employing between 20 and 500 people, but production has declined and the Tangerine and Haribo sites are the only ones remaining.
A festival is held every year in July to celebrate Pontefract's historic association with the plant.
Sir William, who was Labour MP for the former constituency of Normanton until 2005, said: "Pontefract has a history of 400 years involvement with liquorice.
"It is renowned worldwide and we have nothing to show of that heritage and history and we consider it is time that was put right."
He said PGT had spoken with HM Courts and Tribunals Service in relation to the court in Cornmarket but that a number of other sites had been identified.
Plans for the museum were announced at an event attended by Herwig Vennekens, the managing director of Haribo in the UK, and Chris Marshall, the former chief executive of Tangerine.
Mr Marshall said: "I would love to see a museum that commemorates the fact that liquorice has been such a key part of our history."
Mr Vennekens said: "It is crucial that we remember the important role that liquorice has played in shaping the region.
"Through the Pontefract Liquorice Museum we can remember, share and celebrate liquorice's rich heritage within Pontefract and how this has shaped confectionery throughout the UK."
The museum could cost in the region of £100,000 to set up, according to Sir William.
Mr Vennekens said Haribo had not been approached with a request for funding but it was helping with issues of content and concept.
'Nostalgic interest'
Councillor David Dagger, Wakefield Council's cabinet member for culture, said: "The council is also very proud of Pontefract's history with liquorice and fully agree that a liquorice museum is a good idea.
"We are more than happy to support the group to help move this idea forward, but at this stage no firm details have been provided."
Richard van Riel, former curator of Pontefract Museum and co-author of a book on liquorice, said the annual festival in the town had previously been sponsored by a Japanese medicine firm and had attracted visitors from across the globe.
He said the confectionary was enjoyed by people in Scandinavia, Holland, Spain and Italy, as well as North America and Australia.
"The liquorice festivals have proved very popular," he said.
"There's a nostalgic interest in liquorice by an elderly population across the country, there's also interest from people interested in herbal remedies.
"And then there are people who are interested in how an Iraqi-Iranian plant ended up in Pontefract, via possibly the Crusades, so there's an historical interest as well."
A spokeswoman for HM Courts and Tribunal Service said it planned to offer the court building in Pontefract for sale but had no intention of leasing the property.