Private Thomas Wroe honoured with birthday plaque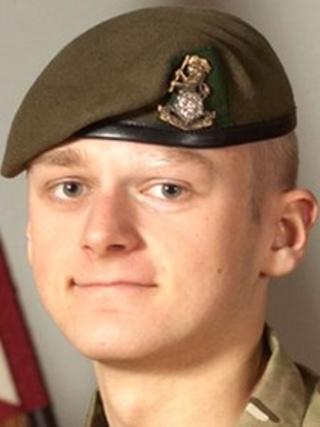 A wing of a care home has been named in honour of a soldier killed in Afghanistan, on what would have been his 19th birthday.
Private Thomas Wroe, from West Yorkshire, was killed last September by a rogue Afghan soldier in Helmand.
His mother Claire Wroe works at Helme Hall in Meltham, near Huddersfield, where the new wing was dedicated.
"Today is a nice occasion, it is a beautiful unit and I feel proud to work here and proud of my son," she said.
Patrick Hennessy, the managing director of the home, said there had been "unquestionable support from the area for the family".
Mr Hennessy added: "In death he galvanised a whole community to come together."
Son's name seen
There is now a memorial plaque to Pte Wroe at the door of the new residential care unit for adults.
Mrs Wroe, who started work at the care home in 2004, said she would be comforted by passing her son's name every day.
Michael Wroe, Pte Wroe's father, said the event had "taken the edge off the day, it being his birthday".
He said his son's name would be seen and remembered for a long time.
Earlier a neighbouring primary school held a one-minute silence for the dead soldier.
Pte Wroe, 18, and Sgt Gareth Thursby, 29, both of 3rd Battalion, The Yorkshire Regiment, were killed in Helmand's Nahr-e Saraj district in September 2012.
The killer lured the soldiers to his side with a fake injury before shooting them.