Dewsbury town centre Victorian buildings set for renovation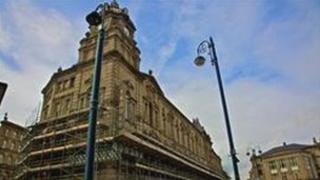 A £4m renovation of some of the Victorian buildings in the centre of Dewsbury is to go ahead after a £2m grant from the Heritage Lottery Fund.
Money would be spent on the Victorian core of the West Yorkshire town, said Kirklees Metropolitan Council.
The area between Dewsbury Station, Pioneer House and the town's arcades is to have derelict historic buildings renovated.
Councillor Cathy Scott said "prominent landmarks" would be back in use.
It is hoped the refurbished buildings in a conservation area would become offices, businesses and residential flats.
Dewsbury was once a thriving market and mill town in the Heavy Woollen District between Leeds and Huddersfield.
It underwent a period of growth in the 19th century thanks to a thriving textile industry.