Hebden Bridge burlesque show banned at picture house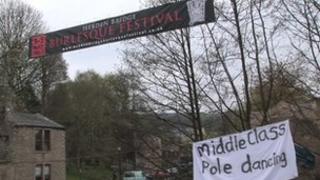 The organisers of a burlesque festival have been banned from a public venue after councillors in a Pennine town branded the art form "demeaning".
The Hebden Bridge Burlesque Festival in West Yorkshire wants to use the town's Picture House which can seat an audience of 400 people.
But the town council's Picture House sub-committee has told organisers burlesque "was demeaning to women".
Event organiser Heidi Bang Tidy has a 1,100-name petition opposing the ban.
The organisers said they had wanted to build on the success of this year's event by using a larger venue in 2014.
Ms Bang Tidy said the performers wanted to use the Picture House because a show they had staged in the 130-seat town hall had proved very popular.
She said: "We're asking for the artists to be able to use the Picture House because it has 400 seats and the town hall can seat only 130 people.
"We want to stage a gala show and one we did earlier in the year had sold out weeks in advance."
Ms Bang Tidy said the group's petition calling for the venue to be made available to the performers had amassed 1,100 signatures since Friday evening.
No one from Hebden Bridge Town Council was available for comment.
But on the burlesque festival's website organisers had reproduced the explanation they had been given by the sub-committee that is responsible for the Picture House.
It said: "The Picture House Committee does not feel that it is appropriate for Hebden Royd Town Council to be associated with the Hebden Bridge Burlesque Festival.
"Burlesque arouses strong feelings, and many people feel it is demeaning to women, and raises issues of gender equality.
"It is also inevitable if held in the Hebden Bridge Picture House that it would be seen to be associated with Hebden Royd Town Council, so the committee declines the approach to host a part of the Hebden Bridge Burlesque Festival."