Thousands join Jane Tomlinson 10k Run for All in Leeds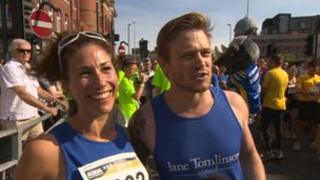 Almost 10,000 people have taken part in the annual Jane Tomlinson Run for All in Leeds.
The 10km (6.2 mile) event was run for the first time in 2007 just three months before the charity fundraiser Jane Tomlinson CBE died from cancer.
Television and sports stars joined the run through the centre of Leeds on one of the warmest days of the year.
Organisers said the event had so far raised more than £2m for charities including the Jane Tomlinson Appeal.
'So chuffed'
Mrs Tomlinson's husband, Mike, said: "The reputation of the run has made it so that people want to travel here and we've got thousands.
"I thought after Jane died it would slowly die but its just got stronger."
Among the celebrities taking part in this year's race was Emmerdale actress Gaynor Faye.
Miss Faye said: "Everyone at work was saying 'you'll be fine.' I am a Leeds girl and I am so chuffed to be running for Jane Tomlinson. It is a fantastic course."
Mrs Tomlinson undertook a series of fundraising sporting challenges after being told her cancer was terminal in 2000.
She had raised more than £1.5m by the time of her death in 2007.