Lap dancing limit in Leeds to 'cost jobs', club owner says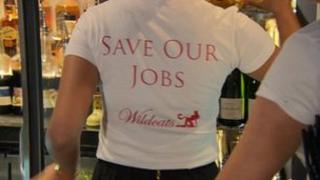 Plans to cut the number of lap dancing clubs in Leeds will cost "up to 200 jobs", one club owner has claimed.
There are currently seven sexual entertainment venues in the city, but senior councillors have agreed to limit the number to four from September.
Leeds City Council said the policy had cross-party support and was "proportionate and justified".
Paul Gourlay, owner of Wildcats, said he and other club proprietors would "fight the decision".
'Heavily regulated'
"We probably have 70 people directly or indirectly employed by this club alone," he said.
"The cull is going to affect three clubs, so to be conservative maybe 200 people are going to be put out of work.
"We are already heavily regulated, already heavily licensed and we have no previous issues of public crime or disorder."
Labour councillor Rebecca Charlwood, chair of the licensing committee, said 85% of the 1,847 people who responded to a public consultation supported the cap.
She said: "We have one side which is the women's groups who are opposed to any kind of sexual entertainment at all and the other side which is the proprietors and the people that use the clubs.
"We wanted to find a middle ground, a moderate policy, that reflected the main bulk of the people of Leeds and their views."
The new policy will also prevent lap dancing clubs being opened near schools and family leisure facilities.
Existing licences would be reviewed when they come up for renewal later this year, the council said