Leeds West Point Flats without water again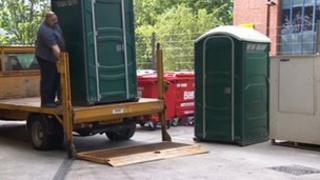 Residents in a block of apartments in Leeds have been left without water for the third time in just over a year.
A burst pipe hit supplies to almost 100 luxury flats at West Point, Wellington Street, at 10:00 BST, the flat's management company said.
Tenants were without water for a week last May. It was just one of two bursts at the building in the last 14 months.
Management company Mainstay Residential said water should be reconnected by 17:00 BST on Thursday.
It added 96 of the 354 flats in the building had been cut off on this occasion.
'Totally unacceptable'
Darren Stone, who has lived in the building for a year and a half, said: "It is becoming a familiar scenario. It is really a nuisance due to sanitation, toilets, not being able to wash and cook meals that sort of thing.
"It is just completely a nightmare."
Chris Bate, a tenant at West Point, added: "Its happened three times in the two years I have lived here.
"We're paying £800 a month in rent and it is a lot to pay for somewhere where the water goes off."
Residents face being without water as temperatures in Leeds are expected to reach 27C on Thursday.
Charles Lucas, technical director for Mainstay Residential, said: "It is totally unacceptable and we apologise for every inconvenience being caused for everyone.
"After the previous burst we did do a full inspection and all was signed off as being sound."
Mr Lucas said bottled water had been delivered and portable toilets and a stand pipe had been provided for residents.