Bradford retains Curry Capital title for record third time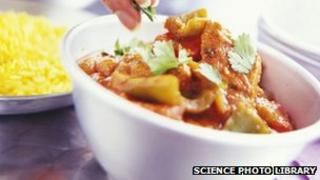 Bradford has been named Curry Capital of Britain for a record third year running, beating competition from 21 other UK cities.
The city narrowly beat a former champion Glasgow by just two points to receive the highest number of votes in the public poll.
The win means Bradford and Glasgow have both been named Curry Capital four times in the contest's 11 year history.
Organiser Peter Grove said competition had been "tougher than ever".
'Fantastic advocate'
Bradford won 83.6 points out of a possible 100 to win the Curry Capital crown, with Glasgow just behind on 81.3 points.
Wolverhampton came third with 71.7 points out of 100.
The competition is an annual event organised on behalf of the Federation of Specialist Restaurants.
Bradford had "embraced" the competition and had focused on working with local businesses to secure the title, organisers said.
Mr Grove said he was delighted Bradford had been chosen in the public vote after a "hard fought" contest.
"This year's competition was tougher than ever, with 22 cities bidding to be crowned," he said.
"The Curry Capital awards encourage recognition of the importance of the curry sector in Britain - and Bradford's resturants are a fantastic advocate for the cause."