West Yorkshire attempted abductions hunt continues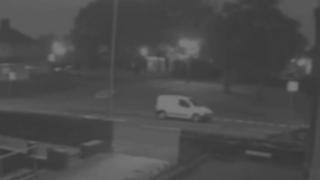 Police investigating the attempted abduction of three girls in West Yorkshire have appealed for more information from the public.
The request comes after police said a 59-year-old man arrested on Tuesday had been released without charge and eliminated from the inquiry.
Two 13-year-old girls and a seven-year-old girl were approached by a man in a white van in Halifax on 2 October.
Police have increased patrols in the area.
Supt Martin Lister of West Yorkshire Police, said: "We continue to act upon the information from the public and this very much remains an ongoing investigation.
White van
"I am appealing directly to the community to come forward with any information and to report any suspicious activity they see to police.
"If you see anything that concerns you or looks out of place then please allow police to deal with it. If you see a suspicious vehicle, for example, take a note of the registration or take a photo and let officers know."
The two 13-year-old girls were approached by the man in Pellon Road, Halifax who asked them to get into his van.
Officers are also investigating an incident where a seven-year-old girl fought off an abduction attempt earlier the same night in Mixenden.
Police have released CCTV footage of the white van they want to trace.