New Leeds evening and Sunday parking fees to start on 18 November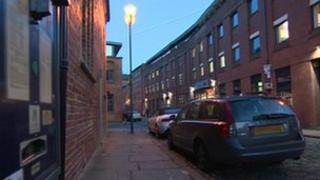 Free parking on evenings and Sundays in Leeds city centre is to end on 18 November, it has been announced.
The city council voted in June to introduce fees from 18:00 GMT on weekdays and on Sundays in a bid to save nearly £55m in its 2013/14 budget.
It said it was at a "financial point where it had to do things differently".
The new charges have been described as "crazy" and "counter-productive" by the local government and communities minister Brandon Lewis.
A flat rate of £2 will apply to on-street spaces and at council-run car parks seven-days-a-week from 18:00 to 22:00 GMT.
On Sundays, parking for up to fours hours will cost £1 and more than four hours will cost £4.
Business fears
A council spokesman said: "While we acknowledge that charging for something that was previously free isn't going to be popular, we must find a delicate balance between managing the increasing demand for parking alongside the need to keep traffic and the economy moving and encouraging people to make the most of public transport."
He said the charges remained "considerably cheaper than private car park operators which already charge for Sunday and evening parking".
Some businesses have criticised the new charges, saying they fear evening and Sunday shoppers will choose to go to out-of-town shopping centres where there is free parking.
Mr Lewis told BBC Yorkshire's Sunday Politics show: "To hike up charges in the evening when we want to see people come into our town centres seems a really crazy thing to do.
"Actually what the council should want is such a vibrant town centre that people are coming in spending money... then the council gets more business rates and that's good for the whole community."