Memorial to miners killed at Lofthouse Colliery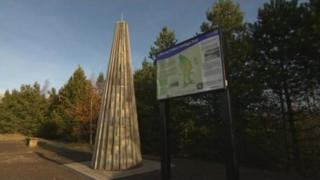 A memorial to those who died at a former colliery has been unveiled at a country park.
About 80 men died at Lofthouse pit near Wakefield over the years of its operation and seven men were killed in an underground flood in 1973.
A steel memorial resembling a shaft of light has been unveiled at Lofthouse Country Park, marking the site of the former pit.
There is a separate memorial to the 1973 disaster at Wrenthorpe.
The new steel memorial is at the closest spot to the actual pit shaft miners used to descend into the mine.
The Wrenthorpe memorial is some distance from the pit head and is above the site where the men were killed when the seam they were working flooded after they had cut into an abandoned shaft, releasing three million gallons of trapped water.
Former miners, families and descendants of all those who worked or died in the pit during its working lifetime gathered earlier to march behind brass bands to the memorial.
Eddie Downes, of the Lofthouse Colliery Action Group, said: "It's a memorial to the colliery and all those who died.
"The site of the mine is now a country park and there's nothing to indicate it was ever a pit."
Mr Downes said there was also a downloadable app that describes the former mine site as visitors to the park walked through.