Birstall woman injured by wind at Leeds skyscraper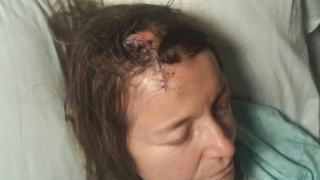 A woman suffered a fractured skull after she was "blown off her feet" close to Leeds' tallest building.
Janet Heaton needed 15 stitches in her head after being knocked over near the 367ft (112m) high Bridgewater Place.
The incident came two days after a coroner said the road by the tower should be closed in strong winds.
The road had been closed to traffic but left open to pedestrians. Leeds City Council said it was still considering the coroner's recommendation.
Ms Heaton, 57, from Birstall, sustained a deep gash in her scalp, a fracture to the back of her skull and damage to her left eye socket in the incident on Thursday, her partner John Bennett said.
Crushed by lorry
"Apparently she was just completely blown off her feet and fell with some force in to the edge of the kerb," he said.
"Janet was not the only one, she was just the unlucky one. It could have killed her.
"People I'm sure could die as a result of this kind of thing. To say that it is unsafe for cars but then safe for pedestrians, I do not know what is going on."
On Tuesday, coroner Melanie Williamson said the council should ensure the junction of Water Lane, Victoria Road and Neville Street is closed to all highway users as soon as wind speeds in that location reach a speed of 20 metres per second [about 45mph]".
She made the recommendation during the inquest into the death of Dr Edward Slaney, who was crushed by a lorry outside Bridgewater Place after it toppled over in high winds in 2011.
In reaction to Ms Williamson's suggestion, a council spokesperson said it was "carefully considering" the recommendation and would report back to her within the statutory 56 days.
The building's owner, CPPI Bridgewater Place, has agreed to take over the design of a wind safety scheme for the building and surrounding area.