Leeds campaigners win partial victory over broadband speeds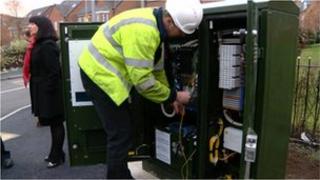 Campaigners who demanded faster broadband speeds in part of Leeds have won a partial victory.
BT has upgraded two of its street cabinets in New Forest Village, Middleton, to carry superfast fibre optic broadband.
Residents had complained about broadband speeds as low as 1.3 Mbps (megabits per second) when the national average according to Ofcom is 14.7 Mbps
BT says 75% of Leeds will be connected by May 2014 and 90% within two years.
Carl Thomas, who lives on the newly-built estate, said the campaign for better broadband had begun in February 2012.
"When I moved in I was shocked. I knew it wouldn't be good but I wasn't quite expecting it to be as bad as it was," he said.
Bill Murphy, from BT, said one problem with new developments was ensuring the infrastructure was in place early enough.
"The houses went up but the infrastructure didn't go in. Getting the fibre out here has been a real challenge," he said.
The campaigners had to prove to BT the demand for the improved service was there.
Mr Thomas, who works in IT, said: "We spent quite a lot of time knocking on the door to get through but to BT's credit once we did we made rapid progress.
"I do see BT's point of view - they have to make money - but at the same time I think you can make a case for decent broadband being an essential utility."
Mr Murphy praised campaigners for working with the company and said the upgraded cabinets would make a real difference.
Campaigners said they would continue to work with BT to try and get the whole area connected to the fibre optic network.