Westfield to restart 'Bradford hole' construction in January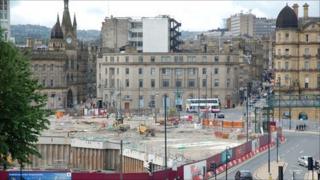 Construction of a stalled shopping centre in Bradford will restart in January, developer Westfield has said.
There has been a 12-acre building site in the centre of the city since work was halted in February 2008, because of the financial crisis.
The site has been nicknamed the "Bradford hole" by local residents.
Westfield said it expected the £260m Broadway centre to be open by the winter of 2015, creating 2,500 retail jobs.
Debenhams and Marks and Spencer will be the "anchor retailers" of the centre, with 70 other shops and restaurants.
'Important day'
Michael Gutman, managing director of Westfield UK/Europe, said work stopped on the development because of the "global financial crisis".
"Westfield has worked intensively with Bradford Council, the government and [investors] Meyer Bergman to attract new retailers, create new jobs and ensure that this development is built for the city and the people of Bradford," he said.
Last year, protesters camped on the building site urging Westfield to restart construction work there.
David Green, Labour leader of Bradford Council, said: "This is an important day.
"The Broadway shopping centre will create many new jobs for Bradford and support the whole city centre and existing businesses by increasing footfall in the city."
The Westfield Group operates 119 shopping centres across the world including in Australia, New Zealand, the US and the UK.