Salvation Army food banks boosted by proceeds of crime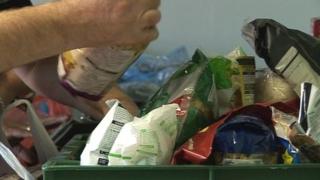 Food banks in West Yorkshire have been given £50,000 from a police fund which raises money from stolen property.
Police and Crime Commissioner Mark Burns-Williamson has released the cash from the Police Property Act Fund to the Salvation Army in West Yorkshire.
Its food banks in Leeds will receive £20,552, with £11,093 going to Wakefield, £9,424 to Bradford, £6,655 to Kirklees and £2,276 to Calderdale.
Mr Burns-Williamson said the money would target "areas of greatest need".
'The very basics'
The commissioner said: "As Christmas approaches more and more families are struggling to make ends meet and the reliance on food banks has become a reality.
"This money will help those food banks in the areas of greatest need to buy more supplies as the festive season draws closer and into the New Year.
"This donation will go some way to addressing the needs of families and hopefully contribute towards easing the pressure on those in our communities in these increasingly difficult times.
Cash generated under the Police Property Act comes from the sale of property connected with crime and can only be used for one-off charitable donations.
Lt Col Michael Highton, the Salvation Army's Yorkshire divisional commander, said: "At a time when the cost of food and utilities has increased... [we are] increasingly helping people with the very basics that they need to get by.
"This donation has benefited Salvation Army Corps, or churches, throughout the whole of West Yorkshire, from Huddersfield to Leeds and everywhere in between, and is going straight to the front line to help those who need our help and support."