Wakefield's Unity Hall redevelopment gets £420,000 grant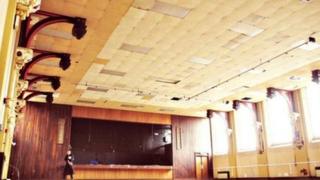 A restoration project for a long-standing arts venue left derelict for more than a decade has been given a £420,000 grant by the government.
A community group was started in 2011 to turn Unity Hall on Westgate, Wakefield, into a music and arts venue.
More than 200 people had invested in a community share scheme to renovate and equip the building.
The grant comes from the Department for Communities and Local Government.
The building was expected to be reopened in September.
Earlier in January it emerged that campaigners had raised £4m to refurbish the Grade II-listed building that was established as the Wakefield Co-operative headquarters in 1867.
The venue went on to host to silent movies, wrestling and ballroom dancing, before staging rock concerts in the 1980s.
The revamped facility will a 600-seater main hall, a smaller hall, meeting rooms, a cafe, gallery and 10,000sq ft of workspace for various businesses.