Bridgewater Place wind reduction plans go on show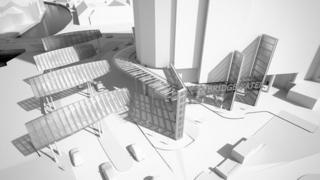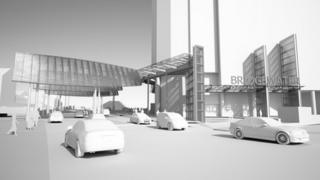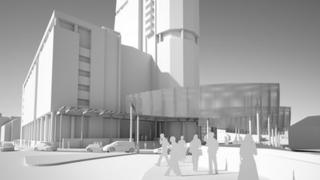 Plans to protect the public from dangerous winds around Yorkshire's tallest building have gone on display.
CPPI, the owner of Bridgewater Place, in Leeds, wants to erect screens and barriers around the 367ft (112m) high tower to deflect the wind.
In 2011, a pedestrian was killed in nearby Neville Street after strong gusts blew a lorry on top of him.
Detailed plans went on show at Bridgewater Place as part of a public consultation.
Nick Sinfield, of CPPI, said: "We are really pleased with the reaction to our plans so far and following our presentation to Leeds City Council earlier this month, we are looking forward to discussing the plans further with members of the public."
Short term concerns
He said it was hoped plans would be submitted to Leeds City Council in the coming months.
Janet Heaton, who suffered a fractured skull when she was knocked over by the wind outside the building in December, said she worried how pedestrians could be protected while the plans were being considered.
"I'm very concerned that they do not have any interim plans," she said.
"It's going to be at least two years before these are in place and what are they going to do in the mean time? Do we just have to take our chances on foot and risk being blown over again? That's not good enough."
In 2011 Edward Slaney, 35, from Sowerby Bridge, West Yorkshire, was walking on a bridge over the River Aire when a lorry toppled over on him.
The inquest into his death heard the area around the tower had become known for strong winds since it was completed in 2007.