West Yorkshire confectionery 'contains banned food dye'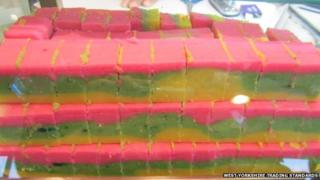 Potentially cancer-causing dyes have been found in traditional Asian sweets made in West Yorkshire, trading standards officers have said.
Fluorescent pink rhodamine B and yellow auramine are banned from use as food colourings.
But West Yorkshire Trading Standards said the dyes were found in products at five outlets in Halifax, Bradford, Cleckheaton and Huddersfield.
A spokesman said it would prosecute any food manufacturers found using them.
'Attractive to children'
Principal officer Trevor Gray said: "It appears that there are at least three manufacturers that have been using the dye in West Yorkshire.
"We have seized stock from several outlets and we are investigating to determine who is responsible."
The European Food Safety Authority has found rhodamine B and auramine to be potentially carcinogenic or genotoxic, which means they can affect the genes and potentially cause cancer.
Leeds councillor Bill Urry said: "These brightly coloured sweets made from milk and sugar are especially attractive to children therefore, in order to protect their health, it is important they are removed from sale."
Trading Standards said businesses should contact their suppliers to check whether the dyes are in their products.