Halifax Royal Infirmary A&E 'could close' under trust plans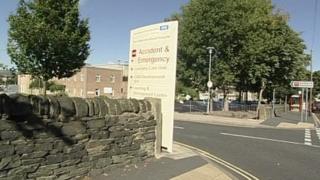 The A&E unit at Halifax Royal Infirmary could be closed in a bid to save the NHS £50m, Calderdale Council says.
Calderdale and Huddersfield NHS Foundation Trust told councillors the closure was its preferred option in a review of local healthcare provision.
The department's closure would mean patients seeking emergency care would have to travel to Huddersfield Royal Infirmary, about seven miles away.
Halifax Labour MP Linda Riordan said closing the unit would be "foolish".
'No consultation yet'
The closure of Halifax's A&E department was the preferred option among a number considered by the hospital trust as part of a wider review of local health and social care provision, Calderdale Council's Health and Social Care Scrutiny Panel was told.
Other options examined included the closure of Huddersfield Royal Infirmary's A&E unit instead of Halifax's, the downgrading of emergency hospital care at both hospitals, or a further option of making no changes.
Doctor Matt Walsh, chief officer of Calderdale Clinical Commissioning Group (CCG), said no final decision had been made about the future of Halifax's A&E - or about other health care provision.
"Nor will there be until we have had a thorough dialogue with a wide range of stakeholders including patients, the public, MPs and other elected members - and others - before we even define what the options for public consultation will be," he said.
But Mrs Riordan said she would "fight" to save Halifax's A&E department.
"If you have a heart attack, if you've got COPD, if you have a stroke, you want to be at the A&E department in Calderdale and not somewhere else. It's foolish to even propose this," she said.
A consultation over the proposed options for the future of healthcare provision in Calderdale and Huddersfield was expected to take place in mid to late summer, said Calderdale CCG.