Graham Holroyd rape trial: Rugby league star's court case begins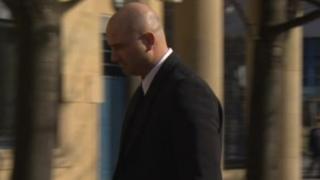 A former rugby league player has gone on trial accused of sexual offences dating back to when he was a child.
Graham Holroyd, 38, from Halifax, denies the rape and indecent assault of a girl and the indecent assault of a boy younger than him.
The alleged offences took place between 1986 and 1991.
The allegations emerged last January when one of the complainants told a counsellor he had been abused as a child, Bradford Crown Court heard.
Prosecutor Richard Gioserano told the jury the man was "breaking over 20 years of silence" by coming forward.
He said: "The prosecution case against this defendant now is that all those years ago when of course he himself was still very young, albeit older than the complainants, he subjected them, the prosecution say, to a number of sexual acts."
The trial was adjourned until Thursday.
Mr Holroyd played two Wembley Challenge Cup finals for Leeds, in 1994 and 1995.
He featured in games for Leeds, Halifax and for several other clubs, including Huddersfield and Salford.