Protest march over Halifax A&E unit closure plans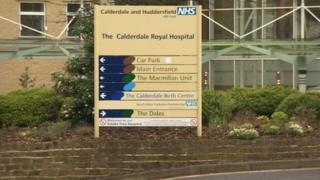 Protesters have marched through the streets of Halifax over plans to close the town's accident and emergency unit.
The closure of the unit at the Calderdale Royal Hospital is the "preferred option" following a review by the local NHS trust.
Calderdale and Huddersfield NHS Foundation Trust said emergency care would be provided at Huddersfield Royal Infirmary, about seven miles away.
The trust needs to save £50m from its budget.
One of the protesters Holly-May Humphrey, who has severe asthma, said she was concerned about having to travel further for emergency treatment.
"I went in about two weeks ago when I was so poorly," she said.
"If I'd had to travel to maybe Huddersfield, which is around 30 minutes more, I think it could have been different."
Calderdale Clinical Commissioning Group (CCG), said no final decision had been made about closing the unit, which is part of a larger review of hospital and social care provision in the region.
The CCG said public consultations on its plans would take place over the summer.