Mile of Pennine moorland on fire near Todmorden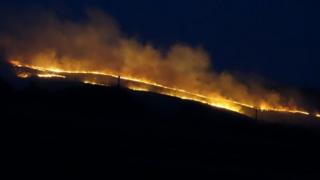 Almost a mile of open moorland is on fire close to the Pennine town of Todmorden in West Yorkshire.
Thirty firefighters from Yorkshire and Lancashire were tackling the blaze on Monday night.
Crews were withdrawn to protect nearby properties as the fire began to spread, although it is not known how many buildings are at risk.
Six fire engines were sent to tackle the blaze at Walsden Moor which started shortly before 18:30 GMT.