Emma Bennett attack: Leeds man admits owning dangerous dog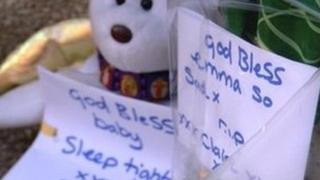 A man has pleaded guilty to owning a dangerous dog that fatally attacked a pregnant woman in her own home.
Lee Horner, 33, admitted owning the dog, called Dollar, that attacked his 27-year-old girlfriend Emma Bennett.
Ms Bennett, who was pregnant with her fifth child, died in hospital after the attack in Leeds on 9 December.
Deputy District Judge David Scanlon told Leeds Magistrates' Court he would pass sentence after Horner is tried over an attack by a second dog.
The dog, named Bella, was involved in the incident but the court heard it was disputed whether this was also classed as a dangerous dog.
Judge Scanlon adjourned proceedings until 16 June when he said Horner would face trial in connection with the attack by the second dog.
He told Horner he would obtain credit for his guilty plea.
The charges relate to a breach of Section One of the Dangerous Dogs Act 1991.