Drivers complain about new Leeds Bradford Airport charges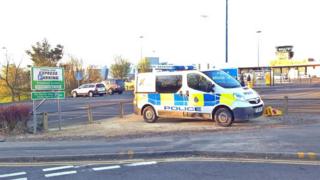 Taxi drivers have complained after Leeds Bradford Airport introduced a £2 fee for dropping passengers off at the terminal building.
The new charge replaces a system that allowed cab drivers to pay a £25 annual fee which allowed them 30 minutes free parking.
The airport said free parking was still available nearby.
Simon Murphy, head of SJK Private Hire in north Leeds, said the rise was a "massive shock" to his business.
Mr Murphy said the free parking area was too far away from the terminal and passengers would pay more in taxi fares to reach the new drop-off zone.
"I'm just disappointed," he said. "I need their help. They can't do this to us.
"It is going to cost our business hundreds of thousands of pounds."
In a statement, the airport said: "We have a dedicated free one-hour zone at Leeds Bradford Airport, which allows all of our users up to 60 minutes parking free of charge and all former members of the Voyager scheme are invited to use it."