Ex-JJB Sports boss Sir David Jones 'fooled everyone'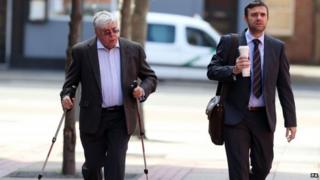 The former executive chairman of JJB Sports forged a bank statement to hide a loan of £1.5m, a jury has heard.
Retail mogul Sir David Jones, 71, from Ilkley, West Yorkshire, is on trial for making false market statements and using a false instrument.
Leeds Crown Court heard he took the loan, from Dave Whelan, when he was in debt "possibly due to gambling".
The jury heard he had previously borrowed £1.5m from Mike Ashley, owner of Sports Direct and Newcastle United.
Prosecutor Miranda Moore QC said Sir David lied about both loans to the board of JJB Sports and, as a result, the company put out misleading statements at a time when they were trying to raise £100m on the financial markets.
'A very good forgery'
Ms Moore said he forged a bank statement with the help of his son, Stuart, who is also on trial, in October 2009.
She said: "It was a forgery. It was a very good forgery. It fooled absolutely everyone."
The court heard the company secured the £100m it needed because "the market was satisfied they were a good bet", and as part of the flotation Sir David secured a £100,000 bonus.
The prosecutor said Sir David never told the truth about the loan from Mr Whelan, the founder of the now-defunct JJB and the chairman of Wigan Athletic, from the moment he took the money in May 2009, to when he left the company in January 2010.
In relation to the loan made by Mr Ashley two years before, she said Sir David lied to his board about what this was for.
Sir David, who has Parkinson's Disease, denies two charges of making a misleading statement, contrary to the Financial Services and Markets Act 2000, and one of using a false instrument, contrary to the Forgery and Counterfeiting Act 1981.
Stuart Jones, 39, of Bingley, West Yorkshire, denies one charge of aiding and abetting his father's use of a false instrument.