Wakefield Prison nurse Karen Cosford struck off register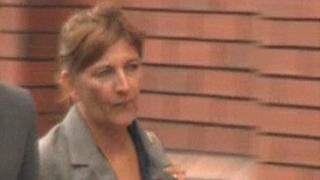 A prison nurse who had an affair with a rapist at Wakefield Prison has been ordered to be struck off the register.
Karen Cosford, 49, of Normanton in West Yorkshire, had a sexual relationship over several months with Brian McBride, who was serving a life sentence.
She was jailed in 2012 and released last November.
Following a fitness to practise hearing on Tuesday, the Nursing and Midwifery Council (NMC) said her conduct was a gross breach of trust.
During her trial at Leeds Crown Court in 2012, Cosford denied all charges but was found guilty of misconduct by engaging in a sexual relationship with an inmate.
She was also found guilty of failing to tell prison authorities that McBride had a mobile and she was bringing in phone credit 'top-ups' on behalf of the prisoner.
Mrs Cosford, who worked in the jail's medical centre, claimed McBride raped her then intimidated her so she would not report it.
'Fruitless exercise'
But jurors rejected the claim after hearing how she became inappropriately close to McBride and struck up a sexual relationship.
The NMC panel heard the 49-year-old had sent an email last month in which she stated that she felt "it would be a fruitless exercise to continue fighting to clear my name with the NMC."
Panel chairman Julian Weinberg said it considered she had demonstrated behaviour falling seriously short of the conduct and standards expected of a registered nurse.
"Bearing in mind the need to uphold proper standards and to maintain public confidence in the profession and the NMC as regulator, the panel was satisfied that Mrs Cosford's fitness to practise is currently impaired by reason of her convictions."
"The only proportionate and appropriate sanction, sufficient to protect the public and maintain confidence in the profession, is a striking-off order," he said.