Peter Barnes death: Police 'must learn' from missing man death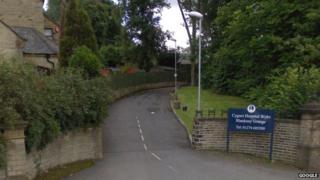 West Yorkshire Police must improve how it handles missing persons reports after a psychiatric patient killed himself, the police watchdog has found.
Peter Barnes, from Lincoln, was reported missing from Cygnet Hospital, Bradford, in October 2011. His body was discovered in the grounds a week later.
The Independent Police Complaints Commission (IPCC) said his death could not have been prevented by officers.
But an investigation had revealed "areas for learning", the IPCC said.
'Well below standard'
Mr Barnes, who was being treated for schizophrenia, was reported missing by the hospital on 13 October and subsequently assessed by police as "a low-risk missing person".
A report by the IPCC said Mr Barnes should have been assessed from the outset as "medium-risk".
It added that while officers searched the patient's room the night he went missing, the force should have conducted a search of the hospital grounds the following day.
The report said the force's early management of the case "fell well below the standard expected".
Cindy Butts, IPCC Commissioner for West Yorkshire, said: "While our investigation did not find that any actions of West Yorkshire Police officers or staff contributed to Mr Barnes' death, we have made a number of recommendations to the force so that its guidance for dealing with reports of missing persons can be improved."
'Regular contact'
The IPCC concluded that West Yorkshire Police should develop "a clear protocol" for when its usual missing person co-ordinators were unavailable.
The force should also highlight the "importance and value" of maintaining regular contact with the family of a missing person, the report said.
West Yorkshire Police's Deputy Chief Constable Dee Collins said the force had since apologised to Mr Barnes's family for the delay in finding his body.
The force had implemented the watchdog's recommendations "in full", Ms Collins added.
An inquest in November 2013 found Mr Barnes took his own life while the balance of his mind was disturbed.