Jailed couple's Dr Who and Star Wars hoard auctioned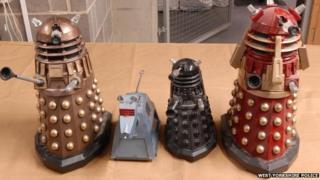 A collection of Dr Who and Star Wars items, seized from a couple jailed for their part in a conspiracy to steal £2.5m from a West Yorkshire firm, is to be auctioned.
Julie Nickerson was jailed for five years and her husband Anthony for 30 months, at Bradford Crown Court in May.
The collection, that cost £17,000 to buy according to police, was seized from the pair's Halifax home.
Proceeds from the sale are to go to the victim, West Yorkshire Police said.
The haul of items, being auctioned in Northern Ireland, also includes Star Trek and Thunderbirds memorabilia.
Mrs Nickerson, 55, worked in the accounts and finance department of the defrauded Halifax firm JLA, a supplier of commercial laundry equipment.
The couple bought a £500,000 house, and spent almost £200,000 on holidays from their "ill-gotten gains", police added.