Yorkshire Water warns of reservoir swimming danger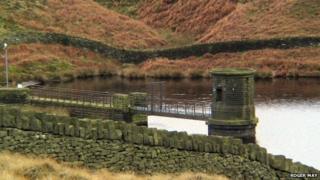 A water company has warned of the fatal dangers of swimming in Yorkshire's reservoirs.
It follows the death of Jonathan Pardon, 38, from Fartown, Huddersfield whose body was found in Snailsden reservoir in South Yorkshire on 1 June.
Yorkshire Water said Mr Pardon's death had been "the latest in a series of tragic accidents at the company's sites in recent years".
The company has warned that even a short swim can be fatal.
'Tempting swim'
Geoff Lomas of Yorkshire Water said: "On a hot day, people can see reservoirs as a tempting place to cool down and enjoy a swim in a scenic location but they don't appreciate just how dangerous they are.
"They can be fatal because of the chilling temperatures and the strong currents that go underneath the surface."
Yorkshire Water owns 120 reservoirs in the county.
The Royal Life Saving Society UK is launching a drowning prevention campaign to raise awareness of the risks involved in swimming in open water.