Leeds General Infirmary and St James 'need improvements' says watchdog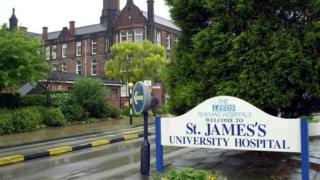 Inspectors from a health watchdog have said the two main hospitals in Leeds require improvements.
The Care Quality Commission inspected Leeds General Infirmary and St James's in March and found both needed changes.
Safety needed to improve and there was "a shortage of out-of-hours doctors on elderly care, children's and surgical wards," inspectors said.
Leeds Teaching Hospitals NHS Trust said there were plans in place for improvements.
The inspectors visited the two hospitals in March, along with Wharfedale Hospital, Chapel Allerton and Seacroft - which were all rated "good" - and then returned for an unannounced visit at a later, undisclosed date.
The report said the hospitals were clean and had systems in place to prevent infection but that staff attendance at training events was low in some areas.
'Bed pressures'
The team found staff on critical care units were concerned about "increasing bed pressures and increasing demands on the service".
Apart from the teenage cancer unit there were no facilities for young people.
Areas of outstanding practice included the macular degeneration clinic at St James's Hospital and the disablement service centre at Seacroft Hospital.
The work of geriatricians in the community and A&E department to prevent unnecessary admissions in the elderly population was highlighted as outstanding.
Julian Hartley, Chief Executive of Leeds Teaching Hospitals NHS Trust, said: "We are pleased that the inspectors recognise the constructive steps we have already taken, such as investing in more clinical staff, and having dedicated safeguarding arrangements.
"We acknowledge there are areas in which we still need to make progress more quickly and we have plans in place to make this happen but the improvements we have already made are good foundations on which to build."