David Haigh arrest: 'No dossier', says GFH Capital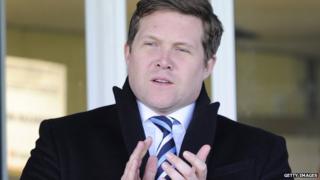 The head of GFH Capital has denied any knowledge of a "damaging" dossier which ex-Leeds United managing director David Haigh claimed he compiled on the firm.
Mr Haigh has been accused of fraud by the Dubai-based group, and is in custody while authorities decide whether to pursue a criminal case.
The dossier was given to senior GFH figures in Bahrain, said his spokesman.
But, according to the private equity firm's CEO Jinesh Patel, senior staff were unaware of any such documents.
Mr Haigh, 36, worked for GFH Capital when it purchased Leeds United in December 2012, but resigned as an employee following the club's takeover by Massimo Cellino in April.
The following month, he flew to Dubai believing he was about to discuss a job offer with his former employer, but was arrested and has since been held without charge in a police cell.
He is accused of profiting from falsified invoices worth about £3m while at GFH Capital and prosecutors are investigating whether to press criminal charges.
At the time of the alleged fraud, Mr Haigh was managing director of Leeds United.
Mr Patel, who took over at GFH Capital in February, said he realised a "large scale" fraud had been committed after reviewing business costs.
"Once we start tracing the flow of the funds, we will know whether any of the funds were actually used to fund Leeds," he told the BBC.
After being arrested, Mr Haigh claimed he had previously made GFH aware of financial misconduct at the company, and had compiled the allegations in a "dossier" shown to two senior staff in Bahrain.
He said one allegation concerned the run-up to the purchase of Leeds United from Ken Bates for more than £17m in December 2012.
In response, Mr Patel said: "I have been in touch with the board. I have been in touch with my group CEO and everybody else that's senior there. There has been no dossier or any dossier that has been provided by Mr Haigh to any senior individuals at GFH.
"Having said that if there are any allegations of misconduct or any allegations that Mr Haigh feels need to be brought to the attention of the authorities we would welcome him to do so."
'Due process'
Since being in custody Mr Haigh has said he feels "trapped" by the lack of resources in his cell, though he stressed he has no complaints about the UAE's legal system.
He said he was one of about 40 detainees, all of whom are denied access to pens and have to share a single payphone.
Mr Patel said GFH had no control over Mr Haigh's arrest, which took place when he arrived at the company's office in Dubai.
He said the police, along with authorities in the UK, had been presented with the evidence about two weeks earlier, and that officers had called the firm to check if Mr Haigh was there before coming to arrest him.
He added: "We had no intention of having anybody incarcerated or having him in a condition that is going to have them in an uncomfortable position.
"That is not our aim, not our plan whatsoever. Our plan and our aim is to get recovery of the assets that have been fraudulently taken from GFH Capital.
"The fact that the Dubai authorities are doing their job very, very well and are undertaking due process is out of our hands. We can't control that process."