Girl 'heartbroken' over stolen Methley foal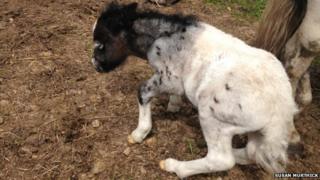 The owners of a four-week-old foal stolen from a field near Leeds say it could die if it is not returned.
The miniature Shetland pony, named Daisy, was taken on Wednesday from Lower Mickletown, in Methley.
Susan Murthick, whose granddaughter, Macy, owns the foal, said the animal could die without its mother, adding that Macy, had been left "heartbroken".
West Yorkshire Police Horse Watch has appealed for anyone with information to come forward.
Mrs Murthick said: "The mother is in distress. She's still producing milk. The baby can't live without that milk.
"It's the first thing [Macy] has had in her life that's her own.
"I think all the children in Methley are heartbroken, they have all been going to stroke it."
West Yorkshire Police Horse Watch described the horse as having distinctive markings, including a "white star shape on her forehead".