James Leslie trial: Officers shot while on routine call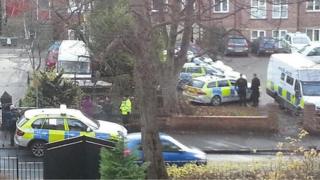 A man fired a sawn-off shotgun at two police officers who were on a routine call and then cycled off, a court has been told.
PC Suzanne Hudson, 33, was injured when she and PC Richard Whiteley called at a house in Leeds on 4 December.
James Leslie, 37, who denies attempted murder, was arrested a few hours later.
Richard Wright QC, prosecuting, told Leeds Crown Court Mr Leslie had shouted "do you want some more" at the officers as he rode away.
He shot at PC Hudson from behind the door after she had knocked, the prosecutor said.
She was injured in her face, neck and hand.
The two officers had gone to the house in Cardigan Road, Headingley, as part of an investigation into an allegation of minor criminal damage.
The jury heard Mr Leslie, of Queenswood Drive, Headingley, still had the gun in his hand as he cycled away before pausing and shouting at PC Whiteley, who was attending to his injured colleague.
The trial continues.