Majestyk fire: Arson suspect mistakenly released by court security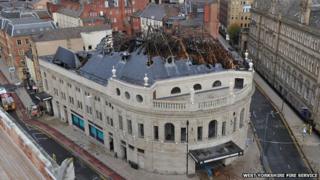 A man accused of setting fire to a former Leeds nightclub was mistakenly released from court custody.
Stuart Jefferson, 32, of Broadlee Street, Leeds, denied starting the fire at the Majestyk when he appeared at Leeds Magistrates' Court on Thursday.
He was initially granted unconditional bail but prosecutors appealed.
Instead of holding Mr Jefferson in a cell while a decision was reached, staff at the court released him.
The defendant was found later in Leeds city centre and returned to court.
Although it was not Mr Jefferson's fault, police spent 90 minutes looking for him.
He has now been remanded in custody to appear at Leeds Crown Court on Monday.
HM Courts Service said: "This individual should not have been released until the appeal against the decision to bail him had been heard by a Crown Court judge.
"HM Courts & Tribunals Service has taken steps to ensure that this does not happen again."
Fire crews were called to the former nightclub in City Square on Tuesday evening.
Dozens of firefighters worked through the night to tackle the blaze at the Grade II listed building, the home of the Majestic cinema in the 1920s.
West Yorkshire Fire & Rescue Service said the roof partially collapsed but the "iconic" building had been saved.
Crews withdrew from the scene on Thursday evening,