George Galloway not to face 'hate speech' charges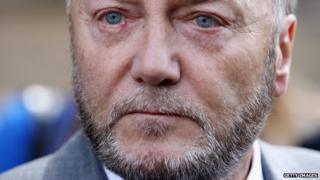 A speech by George Galloway in which he declared Bradford "an Israel-free zone" has been recorded as a "hate incident" by West Yorkshire Police - but he will not be charged with any crime.
The Bradford West MP made the comments at a Respect party meeting in August.
He was interviewed voluntarily under caution by police after complaints were made. There is "insufficient evidence" to bring charges, the CPS said.
Mr Galloway described the matter as an "expensive waste of police time".
'Ultra-Zionist vendetta'
The force said: "West Yorkshire Police always takes complaints of hate offences seriously and wants victims and witnesses to come forward with confidence, knowing that any reported incidents will be thoroughly investigated.
"West Yorkshire Police has recorded this matter as a hate incident."
In a statement, Mr Galloway said: "This has been an extremely expensive waste of police and CPS time forced on them by ultra-Zionists who were pursuing a vendetta against me."
On 2 August, Mr Galloway told the meeting: "We have declared Bradford an Israel-free zone.
"We don't want any Israeli goods; we don't want any Israeli services; we don't want any Israeli academics coming to the university or the college.
"We reject this illegal, barbarous, savage state that calls itself Israel - and you have to do the same."
The Respect MP was questioned by police on 19 August.
West Yorkshire Police defines a hate incident as "any incident which may or may not constitute a criminal offence which is perceived by the victim or any other person to be motivated by prejudice or hate towards a person's disability, race, religion, sexual orientation or gender identity".
Mr Galloway took the Bradford West seat from Labour at a by-election in 2012.
He is a staunch campaigner in defence of Palestinian rights and co-founded the Respect Party in 2004 after being expelled by Labour because of comments he made in opposition to the Iraq war.