M62 hen party crash: Lorry driver 'I'm not careless'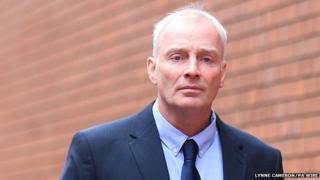 A lorry driver accused of causing the death of a woman on a hen party when he crashed into a minibus has told a court, "I never drive careless".
Trainee nurse Bethany Jones, 18, was killed and several people were seriously injured in the crash on the M62, near Pontefract, on 26 April 2013.
Kevin Ollerhead, 43, denies causing death by dangerous driving.
He told Leeds Crown Court he was a "professional driver", adding there was nothing he could do to avoid the crash.
Miss Jones was part of a hen party travelling from South Elmsall to Liverpool.
The court has heard that during the journey the 24-seater coach suffered mechanical problems and came to a "near standstill" on the motorway before it was hit from behind at 52mph by Mr Ollerhead's lorry.
Addressing Mr Ollerhead, of Lincoln Crescent, St Helens, prosecutor Bryan Cox QC said: "You know, don't you Mr Ollerhead, that your driving fell short of the mark."
Mr Ollerhead replied: "I've driven for 20 years and that day I drove the same way.
"I never drive careless. I do not get angry. I'm a professional driver."
BBC Look North's Crime Correspondent John Cundy said Mr Ollerhead, a former soldier, told the jury he had been returning from Humberside when the crash happened.
He said there was nothing he could have done to avoid the accident.
"Everything stopped and froze," Mr Ollerhead told the court.
"I think I braked, but I'm not sure. I was injured and bleeding. It felt as if I had been cut by hundreds of needles.
"I heard screaming coming from the minibus and I saw the devastation."
Bus driver James Johnson of Wyke, Bradford, admitted causing Miss Jones' death by dangerous driving at a previous court hearing.
The trial continues.