Bradford family deaths: Trauma of neighbour who found body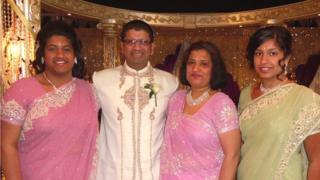 A neighbour who discovered a family of four dead in their Bradford home has told the BBC he sees the father's body every time he tries to sleep.
Jitendra Lad, 49, his wife Daksha, 44, and daughters Trisha, 19, and Nisha, 16, were found at a house on Blackberry Way, Clayton, on Monday evening.
They were found when the neighbour, who wishes to remain anonymous, accompanied a concerned relative into the house.
The neighbour saw Jitendra Lad's body before rushing to call the police.
A post-mortem examination on Tuesday revealed the women were stabbed in their beds at "an earlier point during the weekend", while Mr Lad died on Monday from compression of the neck caused by hanging.
The gruesome discovery was made after phone calls by Mrs Lad's father were left unanswered.
"He [Mrs Lad's father] came to me because he was concerned. He was ringing them and they didn't pick up the phone. So I said 'we'll go to the house'," the neighbour said.
The pair were the first people at the scene.
'Freaked out'
"The father went to the kitchen and I went upstairs. That's when I saw Jitendra.
"When I saw him I just freaked out. I shouted to the father 'we need to get out' and pushed him out.
"I didn't want to see anything further. I thought there might be someone in the house hiding."
The neighbour rushed over to another house from where the police were called. Moments later, officers followed by a team of detectives and forensic investigators had arrived at the scene.
Despite wanting to help Mrs Lad's father, the neighbour said: "I wish I never went there and saw it. I was just trying to help my neighbour out.
"I can't go to sleep because when I close my eyes I can see his body.
"They're a really nice family. Jitendra's a good guy. His wife and the girls are really good.
"I just don't know what went wrong. I'm confused."
Friends, family and neighbours continue to leave flowers and tributes outside the house on Blackberry Way.
The deaths have left the whole community "shocked and stunned", said Kamal Sharma, vice chairman of Shree Lakshmi Narayan Hindu Temple's management committee.
Mr Sharma said the family visited the temple occasionally, but were mainly part of the congregation of another temple in Bradford.
"They used to attend this temple on and off. They were a very close-knit family," he said.
"It's shocking and sickening. This is the first incident I know of that's happened in this Gujarati community in Yorkshire."
Both the husband and wife worked for Bradford Council, where leader David Green had previously said employees were very upset.
"Local people are shocked and saddened by the news of this terrible event and our sympathy goes out to the wider family, friends and neighbours of this family," he said.