Funeral for Leeds woman known as Britain's Annie Oakley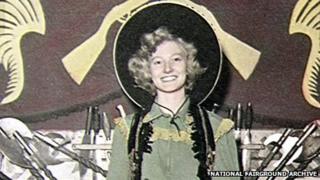 The funeral of a woman know as the British Annie Oakley has taken place in Leeds.
Florence Campbell, 82, was a 1950s fairground performer from Leeds who worked as a sharpshooter and snake-charmer in her family's Wild West show.
Mrs Campbell, born Florence Shufflebottom, performed as part of The Colorado Troupe at fairgrounds across the UK.
Her funeral was held at Cottingley crematorium.
Paying tribute, Mrs Campbell's son Garry said: "I never saw her when she was not smiling. She always had a smile on her face.
"She had a good time in life, really. She always said she had a good life."