The Leeds soldier who was the last British serviceman to die in WW1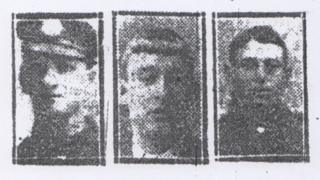 The nation falls silent next week to mark those in Britain and the Commonwealth, who have been killed, injured and affected by conflicts.
Remembrance Day itself, 11 November, was chosen as it was the day in 1918 when hostilities ended in World War One.
The four-year conflict claimed the lives of more than 700,000 British personnel.
Many were killed in the mass battles of the Somme and Passchendaele and others died in individual action, shot by snipers.
That was the fate of Private George Edwin Ellison from Leeds, who was the last British soldier to be killed in World War One.
Pte Ellison died just hours before the war ended on the morning of 11 November 1918.
He was killed at about 09:30, by a German sniper, while patrolling in woods near the Belgian town of Mons.
He left a wife and a four-year-old son James, who had his fifth birthday just a few days after his father's death.
A full-time soldier, the 40-year-old had served with the 5th Royal Irish Lancers from the outbreak of the war.
'Carry on fighting'
Local historian Dave Stowe, said despite the ceasefire agreement being signed at 05:00, it was "business as usual" until the armistice came into force at 11:00.
"It was fairly common knowledge in many quarters that there was going to be an armistice, certainly on the Western Front but some troops were given orders to carry on fighting," he said.
"This was certainly the case with the 5th Royal Irish lancers, who were in support of the Canadians on the 11 November and acted as an advanced guard, scouting and carrying out reconnaissance work."
Pte Ellison had survived four years of trench warfare, including fighting in the battles of Ypres and the Somme.
In a strange coincidence, the place of his death was the same location he had seen action for the first time, as part of the British Expeditionary Force retreating from Mons in August 1914.
In a further twist, his body lies in the St Symphorien military cemetery in Mons, close to the grave of John Parr, the first British soldier to die in World War One.