Possible new charges in West Yorkshire cyclist's death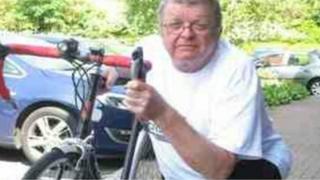 A man convicted of dangerous driving after he knocked a pensioner off his bike 18 months ago could face further charges after the cyclist died.
Michael Gledhill, 23, of Bramble Bank, Holmfirth was found guilty at a trial at Leeds Crown Court last month and will be sentenced on 25 November.
John Radford, 70, was left critically ill after the collision and died earlier this week.
West Yorkshire Police has referred the case to the Crown Prosecution Service.
Mr Radford suffered serious head injuries in the incident on Huddersfield Road, Holmfirth, in July 2013.
He was the chairman of Huddersfield and District Cyclists and had been promoting a campaign calling for better investigation of road accidents.
In a statement, assistant chief constable Mark Milsom said: "The driver convicted in respect of the collision in which John was seriously injured is presently awaiting sentencing at the Crown Court on the 25th November.
"We have therefore immediately raised the matter with the Crown Prosecution service, to enable them to refer the case to the Attorney General who is responsible for considering further proceedings in such circumstances."