Leeds Temple Works flax mill set for arts venue regeneration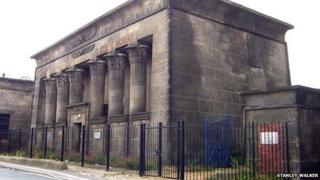 A run-down Leeds flax mill could be turned into an international events and arts venue, under new proposals.
The Grade I listed Temple Works, in Holbeck Urban Village, suffered a major structural failure in 2008 when part of the roof and frontage fell in.
Leeds City Council is supporting a Heritage Lottery Fund bid by developer Citu to help drive the refurbishment.
Councillors have also agreed to sell seven acres of adjacent land to contribute towards redevelopment costs.
The land at Bath Road and Leodis Court will go to a charitable trust set up by Citu.
Citu is also proposing a mixed-use residential and leisure development and a new public open space on the council-owned land.