Mum tells Bradford court of 'bullied' girl's tears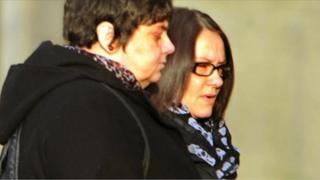 A mother has described in court the "heartbreaking" moment her seven-year-old daughter said a teaching assistant taped her to a chair.
Rachael Regan, 43, and Deborah McDonald, 41, are on trial at Bradford Crown Court accused of bullying the pupil at a school in Calderdale.
Both women, from Halifax, deny a charge of cruelty.
Giving evidence, the child's mother said her daughter "clung" to her "for dear life" after the incident.
The court heard how the pair carried out a catalogue of incidents over a five-month period.
They included shutting the girl in a storeroom, tying her shoes on with string, sticking post-it notes on her thumbs, goading her with a biscuit and hiding her doll.
'They all laughed'
The girl's mother, who cannot be named, told the jury her daughter had tears streaming down her face when describing how Mrs Regan taped her to the chair.
"It was just so heartbreaking to see her like that because [she] is so bubbly and outgoing and I have never seen my daughter so upset. She just clung to me for dear life," she said.
She said she asked her daughter how she felt and the girl replied: "They all thought I was funny. I was the clown. They all laughed at me'."
An investigation was launched after the girl made the allegations against teacher Ms McDonald, of Birks Hall Terrace, and Mrs Regan, of Cousin Lane, Illingworth.
The court heard how the girl, now nine, started to make excuses to not go to school and became increasingly clingy and asked to change schools.
In footage from her police interview, the girl said: "(Regan's) not a very nice person. Because she likes everybody else except for me. I don't know why she doesn't like me."
She added later: "She's always nice to the other children in class but she's always mean to me."
The trial continues.