Leeds City Council could shed 475 more jobs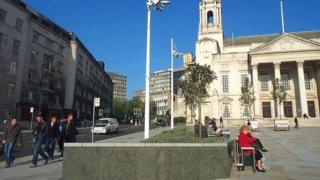 A total of 475 jobs could be lost as council leaders in Leeds face making savings of £76m next year.
The city council, which has already shed about 2,000 jobs in the past four years, may also have to shave 6% from its spending on roads maintenance and leisure centres.
Labour leader Keith Wakefield claimed the budget was "the toughest yet" and described the cuts as "brutal".
The council plans to ask the public about its budget plans.
Among the other proposals are increasing rents by 2.88%, a 5.1% rise in nursery fees and a reduction in grants to voluntary organisations, including a 20% drop for arts groups.
'Very painful'
The council said it had not made a decision on whether to increase council tax as it was awaiting further instructions from central government.
Mr Wakefield said the authority would see a 14.9% reduction in its government grant for next year, a drop of £46.7m.
He said: "We have tried as hard as possible to limit the impact on frontline services but it's unavoidable that whatever we do now is going to be very painful so it is vitally important that people give us their views so we can find out their priorities."
A council spokesman said the increasing demand for and cost of providing statutory services made an additional £30m in cuts necessary on top of the £46m grant reduction.
Local Government Minister Kris Hopkins said: "The public sector needs to do their bit to pay off the deficit left by the last administration including local government which accounts for a quarter of all public spending.
"Since 2010, this government has delivered a fair settlement to every part of the country while giving them greater financial independence so they can deliver sensible savings while protecting front-line services.
"Leaving aside schools due to the move to academies, Leeds's spending has actually increased under this government."