Whistle-blowing site not helpful, ambulance trust says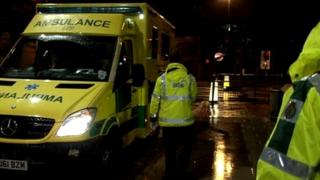 An ambulance service has hit back at a union that has set up a whistle-blowing website to record complaints from members of the public and staff.
Unite the union said it launched the website "amid growing concerns around possible life-threatening issues at Yorkshire Ambulance Service".
The union said it had been "inundated" with complaints.
But Yorkshire Ambulance Service (YAS) NHS Trust "strongly refuted" the claims, which it said were misleading.
Yorkshire ambulance Unite members have held a series of strikes since April 2013 and David Whiting, chief executive of the trust, resigned in November.
Unite claims the trust puts lives at risk by sending Emergency Care Assistants not trained to deal with emergencies.
It said the assistants have "only a fraction of the training of a qualified paramedic".
Ian Brandwood, of the trust, said: "We strongly refute the misleading claims that Unite has made around patient safety and the role of Emergency Care Assistants, who do not go out without a qualified clinician."
He said: "Patients' needs are at the heart of everything we do and our absolute focus is to ensure that we continue to deliver a safe, responsive and high quality service to them."
Unite said representatives witnessed "a constant stream of concerns" at its constituencies at Bradford East, Harrogate and Knaresborough, and Sheffield Hallam.
General secretary Len McCluskey said: "Patient safety must come first and the public must have the right to blow the whistle if they feel this is being compromised."
The trust said it had its own "comprehensive whistle-blowing policy" and encouraged staff to use it "in absolute confidence".