Dinosaur models stolen from Harry's Carvery in Wyke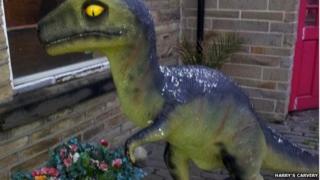 A dinosaur has been stolen from a pub beer garden in West Yorkshire.
The 5ft (152.4cm) fibreglass Velociraptor, called Arthur, is thought to have been taken from the front of Harry's Carvery on Whitehall Road in Wyke at around 07:30 GMT on Saturday.
The pub's other dinosaur, Gertrude, had her tail damaged when vandals tried to remove the 17-foot model from her plinth.
Owner Di Fuller said Gertrude's tail had since been recovered.
"I don't believe the police officers have ever attended a report of missing Velociraptors," she said.
"We've already had a ransom demand for Arthur from someone claiming they had him and would return him for £1,000,000. We're expecting a few wind-up calls."
West Yorkshire Police said it was appealing for information "after a dinosaur was made prematurely extinct at a public house".
Sergeant Garry Shelton said: "The beer garden is clearly seen from the busy road which runs between Halifax and Leeds.
"I would appeal for anyone who thinks they may have "saurus" something to contact police.
''We've had a bit of fun with the puns but this is a case of criminal damage and theft, which is not acceptable in any way, and it's important those responsible are identified and the items returned to their rightful owners.''
Ms Fuller has owned Harry's Carvery for the past five years.
She said she bought the Velociraptors in 2008 and they had been outside the pub for the past three years since a staff member, speaking about a dinosaur film, asked her, "who doesn't love dinosaurs?"
Ms Fuller said she planned to find a new home for Gertrude once the model had been repaired.
"I'm going to ask around to see if there are any schools nearby that might want to take her in after this has happened," she said.
In March, a model dinosaur stolen from a mini golf course in Reading sparked a nationwide search. Eventually it was returned with an anonymous note.