Leeds West Indian Carnival made £2.7m in 2014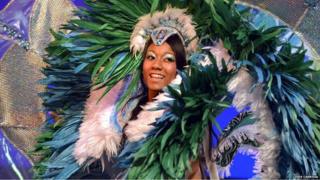 Leeds West Indian Carnival made nearly £3m for the local economy, the council has said.
The local authority surveyed revellers to measure the economic impact of the event for the first time in the summer.
A total of £2.7m was spent in Leeds in August, with the vast majority of it coming from carnival visitors in Chapeltown.
Simon Brereton, from Leeds City Council, said about £1.5m was spent by people from outside the city.
"That boost to the local economy is important. People can take quite a lot of their year's money on the day," he said.
The bad weather at the 47th West Indian Carnival prevented the event from making even more, with the council originally predicting £5m or more for the local economy.