Bradford taxi drivers to face new English language test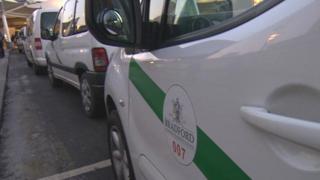 New taxi drivers in Bradford are to face different English language tests as part of changes to licensing laws in the city.
Applicants will now be tested on their conversational skills, rather than the existing system of reading a passage from a book and writing a receipt.
Drivers will be expected to talk about the local area, the council said.
The authority is also planning to tighten rules on operators who use taxis licensed by other councils.
In a report, Bradford City Council said the focus of the new test would be to "ensure the applicant understands English and has contributed to communication of English at a basic level".
The council said questions would include: "What do you think of the weather recently?", "Where did you take your last customer"? and "How do you get from A to B"?
Shabir Munir, from the local Hackney Carriage Owners' and Drivers' Association, said he welcomed the changes as it was essential that drivers could speak English.
"Every time a customer comes in you are going to ask them where they're going and you need to know where you are going," he said.
"As part of being in that industry, hospitality and public service, it is very important."