Wrongly-arrested Halifax man sues West Yorkshire Police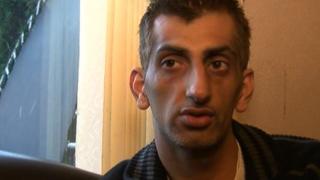 A man is taking legal action against West Yorkshire Police, claiming he was wrongly identified and imprisoned in Scotland for three days.
Mohammed Naved Bashir, from Elland, near Halifax, was taken to court in Glasgow accused of fraud before the mistake was realised.
Mr Bashir said police stopped his car in Halifax just before Christmas and asked to see his insurance details.
They ran checks and said he was wanted in Glasgow for fraud.
He was arrested and taken to a cell in Halifax, then transferred to Scotland where he appeared in court.
After three days, Mr Bashir was released. "There was no apology, they just dumped me in Glasgow city centre with nowhere to go," he said.
"Luckily I had about £6 in my pocket.
"I can't figure out how they got it wrong, how can someone's fingerprints get mixed up with someone else's?"
West Yorkshire Police confirmed it had received the complaint from Mr Bashir.
"We have received a civil claim and have launched a full investigation," the force said.
"Unfortunately, due to the current legal status of this claim we are unable to comment on it further."