Primark to close Leeds store on The Headrow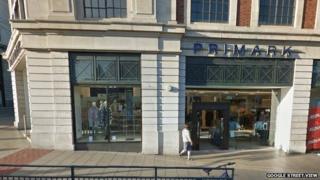 Primark is to close one of its two stores in Leeds.
The budget clothing retailer said its shop in The Headrow would shut in March.
It said in a statement: "Primark confirms that it has decided to consolidate its presence in Leeds city centre by developing its store at the Trinity shopping centre."
The company said it would talk to staff and offer them a transfer to the nearby Trinity shop or another store.
Cathy Barnes, professor of retail innovation at Leeds Beckett University, said: "Primark may be looking at the demographics, or who is shopping where in Leeds.
"It may be there is not the footfall to sustain two shops and many of Primark's shoppers are likely to be in the area of Leeds where Trinity is rather than The Headrow."
The 1,000,000 sq ft (92,900 sq m) Trinity Leeds shopping centre opened in 2013. It is home to 120 shops and has a third floor dedicated to restaurants.
Primark has over 250 stores in the UK and Europe and in 2014 announced its intention to open its first store in the US.